Last week we did a review of the TECNO Camon 15 device and highlighted some of the significant features on the phone that are undeniably outstanding.
The Camon 15 is a camera-centered smartphone that packs an advanced camera technology ideal for photography lovers. With a 48MP Quad main camera and 16MP selfie camera, anyone can become a pro photographer especially as the phone comes with AI algorithms to significantly enhance night-time photography processes and challenges by making images clearer, enhancing ultra-clear night shots.
The phone runs on HiOS 6.0, a new custom user interface from TECNO build on Android OS.  It gives the phone a beautiful look and an easier user interface. Users have the liberty to choose between different themes for the interface.
At only Ksh 17,999, the phone gives almost the same user experience as that of high-end flagship phones bundled up with HiOS 6 that gives it a more sleek user interface.
HiOS functions on the Camon 15
HiOS 6.0 has added a few new features into the interface that enhance the user experience. They have included new font styles, a new pull-down notification drawer, a side panel including the smart panel which allows you to access apps quickly with just a swipe from the right edge which also gives you the option to add your desired apps.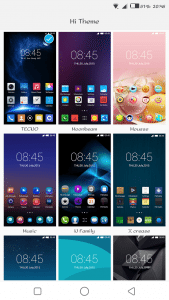 Quick specs of the HiOS 6.0
Dark theme
Wi-Fi share
Gesture navigation
pop-up messages
Magic button
parental control
Gesture call picker
Instant USSD
Social Turbo
HIOS packs:
The smart panel
Tecno Camon 15 packs a smart panel allows you to access apps quickly with a swipe from the right edge. The apps in the side panel can also be edited to match your desired apps.

Dark Mode
In most cases, only specific applications support dark mode but with HiOS, You'll be able to have the entire system in a darker hue to reduce brightness, and as well, the dark mode saves battery life. The dark theme also makes it easier on your eyes and save battery life.
Wi-Fi Share
Camon 15 allows you to share Wi-Fi with other contacts even without a password provided you are logged in without necessarily disclosing the password. So you don't have to worry if you remember the password or not. There is a possibility that you are connected to a Wi-Fi network whose password you don't remember or have access to but would want your friends or family to access it by just scanning QR codes.
Game Mode
The Camon 15 comes with a game mode button which allows you to add one of your phone's physical buttons as a dedicated button to use in your game.  For example, you can set the volume key as a 'fire' button which makes it easier to fire at your enemies.
HiOS also solves one of the biggest problems most users encounter when playing games: interruptions by messages. With the HIOS 6.0, a snippet of the message will slide across your screen giving you a brief view of the message without interrupting your game in any way.
Social Turbo
The TECNO Camon 15 comes with an incredible box named social pilot. The box contains large great features based on WhatsApp that allows saving a status as long as you want.  You can also create your own WhatsApp meme and stickers, or check recalled WhatsApp messages by your friends. It also enhances video beauty.
Location controls and privacy tools
HiOS 6.0 features a new dedicated location section in your phone's privacy settings that gives users more control over the location data they share with apps. This means you can opt to share location data with apps only when they are in use.
Pop-Up messages
The device allows for pop-up messages on screen so that you continue to watch games without any interruptions.
Gesture navigation
HiOS also supports gestures that allow you to do a three-finger swipe to take a screenshot and a two-finger gesture to pick calls. Then there is Phone Master which boosts the phone's performance by letting you delete junk files and clear RAM.
Gesture call picking
HiOS 6 allows you to answer calls on your TECNO phone without touching the screen. You can use a V gesture to answer calls and use a palm gesture to end a call.  However, we didn't test this on Camon 15.
Final pick
HiOS allows for a wide range of user customization without requiring rooting the mobile device. The operating system is also bundled with utility applications that allow users to free up memory, freeze applications, limit data access to applications among others.HiOS also comes with features like; Launcher, Private Safe, Split Screen and Lockscreen Notification that improves the phone's usage. Giving it more power when it comes to functionality.