If you haven't logged into your Twitter account for the past six months and don't want someone to grab your username, you might want to sign in soon. This is because Twitter is notifying users that it'll start removing inactive accounts and this purge will begin after December 11th.
Twitter's current inactive account policy states that inactivity is based on logging in, not tweeting, so if you have logged into your account recently but haven't tweeted since 2017, your account will be fine. The company's policy recommends logging into your account every six months or so to reduce the risk of your account getting deleted.
Twitter released a statement to TechCrunch on the matter, saying:
"As part of our commitment to serve the public conversation, we're working to clean up inactive accounts to present more accurate, credible information people can trust across Twitter. Part of this effort is encouraging people to actively log in and use Twitter when they register an account, as stated in our Inactive Accounts Policy. We have begun proactive outreach to many accounts who have not logged into Twitter in over six months to inform them that their accounts may be permanently removed due to prolonged inactivity."
As much as the company explained the clean-up as part of an effort to "present more accurate, credible information" that people can rely on, it didn't elaborate on what that meant. But, this could help you find the users and tweets you're looking for instead of having to paddle through a sea of quickly-abandoned accounts. It could also make it harder for porn merchants and propagandists to hijack accounts for the sake of spam.
However, the Twitter spokesperson stressed that the account closures will take place over "many months" and you won't see multitudes of usernames become available as soon as December 12th.
Meaning that if one of those accounts has a username you've been trying to snag, you'll have to hold out a little bit longer. Still, it's good news for lots of Twitter users who are holding out on a new username. 
Nevertheless, there may be a significant downside for anyone who can't sign in like people in extended hospital stays and others, who might lose their accounts, and thus their entire post histories.
And when asked how it would handle accounts owned by dead people, Twitter told The Verge it's thinking of how to memorialize those tweets. Unlike Facebook, Twitter doesn't offer a "memorialisation" option that freezes the account in place and disallows new interactions – a measure to prevent abuse.
Although, since inactivity is based on logging in and not posting, bot accounts such as those which automatically tweet news or alerts would also come under the cull if the account owners do not log-in before the December deadline.
This could also pose problems for well-known accounts that have fallen silent but still have some cultural value. Like accounts set up specifically as an archive could be deleted if not logged into; such as @POTUS44, a collection of all the tweets made by President Barack Obama while in office.
The site has sent out emails to users of accounts that will be affected by the deletions. The firm would not say how many current accounts fit the criteria, although it is expected to be in the many millions. It will send out more notice closures closer to the deadline.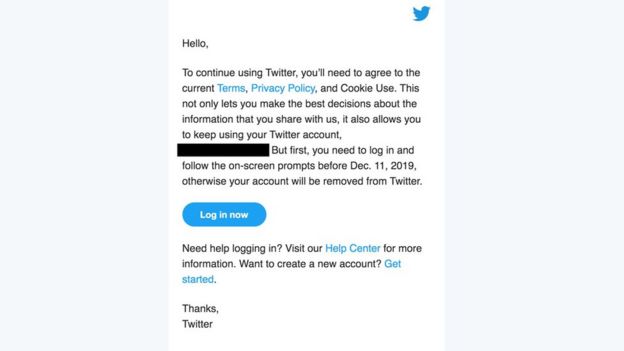 Keep in mind that these accounts don't have to actually tweet anything to stick around. They just have to log in and follow Twitter's instructions. So even if the username you want seems long-dormant based on activity, whoever owns it can still hold on to the username just by logging in.