Molotov, an OTT distribution platform that has revolutionized access to television combining linear and non-linear programs from more than 220 content publishers and television channels in a single interface has expanded into Francophone Africa.
Molotov has launched in Côte d'Ivoire and already aggregates tens of thousands of paying subscribers. The firm is now setting up in Senegal this month and Cameroon in February, Burkina Faso in March, Tunisia in April, and Guinea and the Democratic Republic of Congo, before a global rollout in the rest of French-speaking Africa countries in 2021.
"The international launch of Molotov represents an exciting new milestone expanding our platform and brand throughout the world." says JeanDavid Blanc, founder and CEO of Molotov. ​"Our mission is simple: to create the easiest way for viewers to find the content they love through an intuitive service and platform. Molotov not only helps viewers discover new content, but also provides publishers, channels and SVoD services the ability to be easily discovered and more frequently used."
In just 4 years, Molotov has attracted 13.2 million users in France and brought together nearly 180 publishers and services on its platform.
As a reminder, Molotov offers consumers an easy way to navigate through the content and services of publishers and channels on a single platform, accessible from all devices with a simple and intuitive interface, and a single subscription system. The platform provides so many choices of niche or mainstream programs, live or on-demand content.
The launch of Molotov outside the borders of its native country marks a new milestone in the expansion of the platform, with the launch of regional versions in 7 new markets.
The firm is also working with local partners to launch in Europe, South America and Asia in a move to rapidly deploy the platform and the brand around the world, primarily in the EMEA zone.
The live and on-demand video streaming platform is mainly focusing on Africa's mobile-first generation and has optimized its applications to take into account regional specificities (low bandrates, unstable connections, low-performance terminals).
In the new markets, the line up consists of fifteen local linear channels, catch-up and on-demand content. Agreements with regional publishers have been reached in order to provide 30 channels by spring 2021.
Mango, Molotov's free ad-supported video-on-demand service (AVoD) launched in France last November,  will enrich those services with hundreds of films, documentaries, tv shows and kid's content.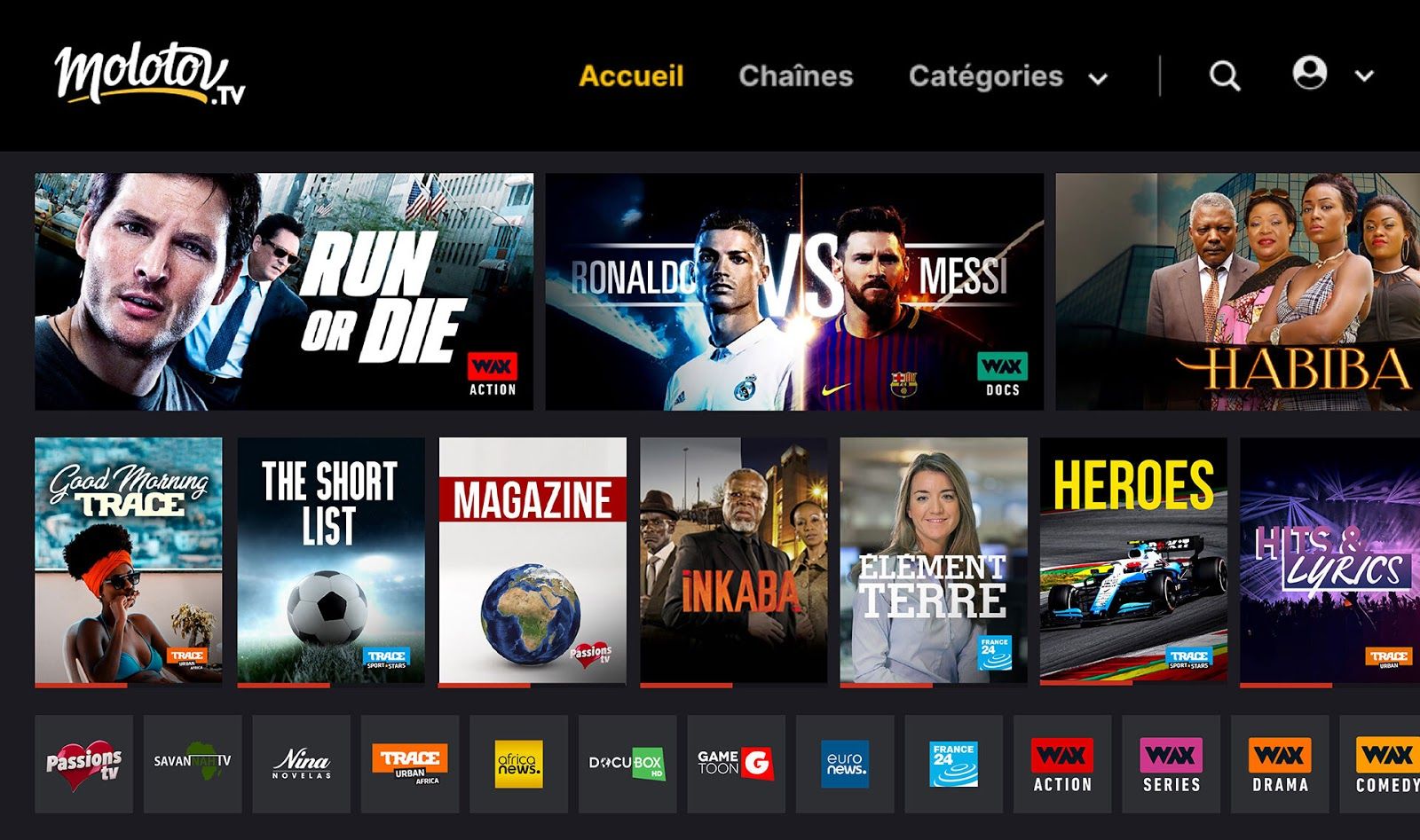 Molotov Interface in Africa – © Molotov 2021
"Molotov's ability to attract international partners is a great recognition for our brand and our French team's capacity to grow one of the most acclaimed OTT platforms" ​adds ​François le Pichon, in charge of Molotov Solutions​ and International Development​.​
The monetization of paid offers relies on payment solutions provided by Digital Virgo and in particular its no credit card needed, per day payment system, provided directly by local mobile operators. Digital Virgo, a global provider of monetization solutions operating in more than 40 countries with 120 telco partners, brings its expertise in African markets and local marketing to this partnership, thanks to its local branches and its 130 employees on the continent.
"The partnership with Molotov allows us to deploy a service with very high added value on the African market. Cloud TV offers growth potential to all players in the content ecosystem, from producer to publisher via telecom operators. But the key element of success is, without a doubt, adaptation to local specificities. This is where we intervene by integrating our payment platform, our ability to integrate local content, adapt technology and launch effective marketing campaigns." says Vincent Taradel, Marketing Director of ​Digital Virgo.​