TikTok has launched its first creator-led NFT collection featuring Lil Nas X, Bella Poarch, Brittany Broski, Curtis Roach, among others, inspired by their trending videos with an aim to recognize and reward them for their creativity and to give fans ownership of the moments.
According to Nick Tran, Global Head of Marketing, TikTok, "The creation that happens on TikTok helps drive culture and starts trends beyond the platform. As the creator economy continues to grow, we're continually looking for new and differentiated ways to support our creators. Now, fans can own a moment on TikTok that helped shape the internet while supporting some of their favorite creators. We're excited to see how our community and NFT communities engage with some of the internet's most beloved cultural milestones."
The NFTs will be made available on Ethereum and will be powered by Immutable X, which uses StarkWare's innovative technology to create the first carbon neutral Layer-2 scaling solution for Ethereum. Some of the top impact TikTok creators selected include Lil Nas X, Rudy Willingham, Bella Poarch, Curtis Roach, Brittany Broski, FNMeka, Jess Marciante and Gary Vaynerchuk partnering with prominent NFT creators such as COIN ARTIST, x0r, RTFKT, Grimes, and more, on limited edition NFTs.
The proceeds will directly go to the creators and NFT artists involved and will give fans the ability to show support to the creators they love. Fans can head to a dedicated drop site, where Lil Nas X will be the first creator to launch his one-of-one and limited editions with artist Rudy Willingham. NFTs can be minted and traded with zero gas fees on the Immutable X Layer-2.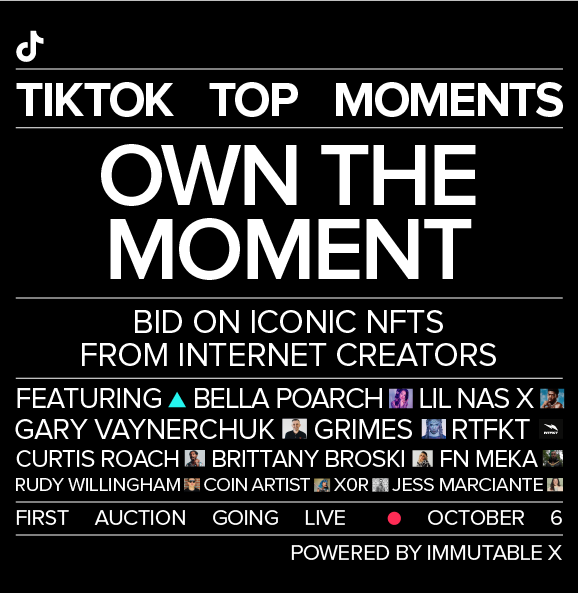 NFT ONE-OF-ONE DROPS ROLL OUT
On-Sale October 6
Lil Nas X's "Montero (Call Me By Your Name)" broke the internet, then TikTok creator Rudy Willingham made a stop motion video of the song and broke the internet again. Rudy Willingham's tribute TikTok to Lil Nas X is a hypnotic kaleidoscope of color and sound that caught the attention of millions, including Lil Nas X himself. Each of the 81 frames features Willingham's signature cutouts, photographed against a background that reflects a different part of LNX's genius.
Curtis Roach defined a unique period of quarantine with a 15-second TikTok video. In this symbiotic merging of worlds, the rapper partners with NFT leader, COIN ARTIST, on her first music inspired drop.
FNMeka is the first robot rapper, captivating an audience of 10M followers on TikTok with videos like "can you guess what I'm cooking" Digital-imitates-life in this collab between robot rapper, FNMeka, and virtual shoe and collectible creator, RTFKT. The pairing features biological brothers IRL, creators Brandon and Chris Le.
Gary Vaynerchuk x @JessssTheMess x x0r
Jess Marciante, Gary Vaynerchuk, and x0r want the most stitched video on Tiktok to live in your head rent free. This collaboration is fun – brought to you by a TikTok star and two business guys that love NFTs.
Bella Poarch and Grimes are dynamic musicians with cultural relevance: one is a TikTok icon, the other is a NFT pioneer. In this drop, IRL friends help each other break into the next big space.
Brittany Broski broke norms with one of the internet's most iconic videos, propelling her overnight to as "Kombucha girl." Grimes broke expectations with a $6 million NFT series. Driven by authenticity, this pairing's proceeds will go to charity.
Each TikTok video in the collection will also be presented at Infinite Duets: Co-Creating on TikTok, a new TikTok Exhibit at the Museum of the Moving Image in Queens, NY beginning on October 1 through November 5.