IFA 2019 is wrapping up and we can now drool over all the announcements from one of the world's biggest annual tech events. A few new phones were announced from some of the biggest companies like Samsung, Nokia and Motorola, and a returning foldable device that we first saw for a minute almost five months ago.
Europe's biggest electronics show, IFA, isn't big on phones, but that didn't stop companies from talking about a major new wireless technology: 5G. However, unlike other trade shows such as Mobile World Congress (MWC), which is an annual show with more of the focus on smartphones, IFA's 5G focus wasn't on high-end, expensive 5G phones. Fairly, it was all about making 5G more accessible to the rest of us. 
A dominant theme among the IFA 2019 smartphones was that they're all at the cheaper end of the market, less than $1,000. Well, except for the $2,000 revamped Galaxy Fold. But most of the announced phones were all the kind of phones that most people will buy.
IFA saw the debut of a cheaper 5G phone from Samsung at a time the electronics giant has been releasing pricier products such as the Galaxy Note 10 series. Also, companies like Motorola and Nokia phone maker HMD swore to introduce devices next year that cost less than most 5G phones now.
Mobile chip giant Qualcomm stated it will bring 5G to its cheaper Snapdragon processors for phones next year, while chip rivals Samsung and Huawei made updates to their own 5G modems with integrated versions that typically bring down the cost. 
"We accelerated the launch of 5G to 2019, and now we're accelerating the scaling of 5G." Qualcomm President Cristiano Amon said in an interview Friday at IFA.
In case you missed out on the electronics show, here's a recap of what you might have missed from the smartphone announcements.
Samsung
A few days before the show, the Samsung Galaxy A90 5G made an appearance at IFA and it's the first flagship of the A-series powered by a Snapdragon 855 chipset. It's also the first phone outside of the Galaxy S and Note series to feature DeX mode. To top that off, it's a 5G phone, Samsung's fourth handset to support next-gen networks.
The Samsung Galaxy A90 5G is also one of the first affordable 5G phones. I don't mean that it sells at a throwaway price, but it's certainly more affordable than a lot of other 5G handsets. Apart from its connectivity capabilities, the phone has some of the features that make Samsung's Galaxy A series of handsets real mid-range contenders: there's a high-quality Super AMOLED display, powerful 4,500mAh battery, and impressive 3-camera array, helmed by a 48MP sensor. Rather than costing more than a super-computer, the Galaxy A90 5G is expected to sell for $799.
Samsung also officially confirmed the relaunch of the Galaxy Fold but created a very messy situation out of it when the company canceled US pre-orders. For going through the trouble of pre-ordering one, consumers got $250 in store credit and apparently needed to join the new pre-orders line if they still wanted one.
The Korean company also unveiled the Galaxy Tab Pro-Active at IFA 2019, a new tough tablet. The tablet features DeX mode, a user-replaceable battery and comes with an S Pen. Being rugged (IP68 and MIL-STD-810G), the device is intended for professionals out in the field.
Motorola
Moto was not left behind as it unveiled its best Android One phone yet, the Motorola One Zoom.
This is part of the Motorola One series of smartphones and is the company's attempt to impress in the mid-range segment, considering that this is the company's first quad-camera phone, and the first to feature a tele camera too.
The device is based on the Moto Z4 with the same 6.4″ OLED screen and Snapdragon 675 chipset, although the 48MP camera on its rear is now joined by a telephoto cam with 3x optical zoom, an ultra-wide camera, and a depth sensor.
With the four cameras packed on this device, you're probably going to be able to take fantastic pictures. The price tag on the Zoom is 429 euros, although pricing for the U.S. hasn't been finalized, it will be sold unlocked via Motorola.com.
The company also showcased a new entry-level phone, the Motorola E6 Plus. It has a 6.1″ screen with a battery capacity of 3,000mAh.
Despite the battery capacity, the Moto E6 Plus comes with a 12nm Helio P22 chipset with a storage option of 4GB of RAM. Finally, on its rear is a 13MP camera with a depth-sensing friend.

Nokia
HMD Global is one company who's schedule at IFA 2019 was packed than most as it announced 5 new phones, starting with two Android One handsets; the Nokia 6.2, Nokia 800 Tough, Nokia 2720, Nokia 110 and the Nokia 7.2 
Although the Nokia 7.2 leads the pack as it features a 48MP camera, the first to ever grace the rear of a Nokia handset.
This will raise the handset from 'fine mid-range camera phone' as the Nokia devices tend to be, to 'serious mid-range contender'. The phone also packs an 8MP ultra-wide-angle cam (118°) and a depth sensor, which enables ZEISS-branded bokeh effects. The phone will go on sale for 249 euros.
HMD also reinforced its KaiOS portfolio with the Nokia 800 Tough which is a rugged phone (IP68 and MIL-STD-810G) that comes with long battery life (2,100mAh, 40+ days of standby).
Who knows, this is probably the next 3310! Though this is a modern device with 4G, VoLTE and a built-in GPS receiver and Google Maps navigation. It will be launched in October at a price of 109 euros.
HMD also brought back the clamshell form factor with the Nokia 2720 Flip. The device has a 1.3″ screen outside, and a 2.8″ screen and large tactile keys on the inside.
The device may seem basic but you can chat on WhatsApp and Facebook, call on VoLTE and VoWiFi, use Google Assistant and so on, all part of the Kai ecosystem priced at 89 euros.
The Nokia 110 (2019) is another device HMD showcased offering entertainment on a budget of just $20. That's $5 less than the Nokia 105, however you get a microSD card slot with MP3 support and a basic camera, plus several games like Snake.
Sony
Sony revealed a handset that takes after the Sony Xperia 1, with similar specs and design, as much as the Xperia 1 was the same size as the Xperia 10 Plus, the Xperia 5 has roughly the same dimensions as the Xperia 10, which is a bit smaller.
This marks the return of the Compact series for Sony. The device packs a triple camera with Eye AF, Snapdragon 855 chipset, stereo speakers, waterproofing and a microSD card slot.
The screen is a 6.1″ OLED with 1080p+ resolution and the battery is 3,140mAh with 18W fast charging. The phone is perfect for one-handed operations as it's narrower than both the Galaxy S10e and the iPhone XS, but its screen has more surface area and the phone packs one more camera on its back.
This device has an aluminum chassis with Gorilla Glass and IP68 protection. All the buttons and controls, including a fingerprint reader, are on the right edge. And under the hood, is a Qualcomm Snapdragon 855 with loads of RAM and storage. On the imaging front, the phone has a triple 12MP camera configuration with standard, wide-angle, and telephoto lenses.
Sony says the Xperia 5 will hit Europe this fall and the U.S. in November at a retail price of $799.99.
LG
LG smartphones have struggled to earn interest in recent years as the company has been trying to find new features that will win back its audience.
At the moment its pet project is dual-screen tech, the LG G8X ThinQ which has a dual-screen attachment. However, the design can be a bit bulky when you've got the second-screen attachment. But if dual-screen tech actually catches on, LG will certainly be at the forefront.
The LG G8X ThinQ has a 6.4″ OLED screen with 1080p resolution. It features a fingerprint reader under the display a notch and a 32MP selfie camera with a Quad Bayer sensor.
But, the main focus for LG here was on the Dual Screen accessory, which adds a second 6.4″ OLED panel. At IFA 2019, LG even built an impressive demo wall covered with G8X ThinQ phones with Dual Screens, showing off the various uses for the second screen.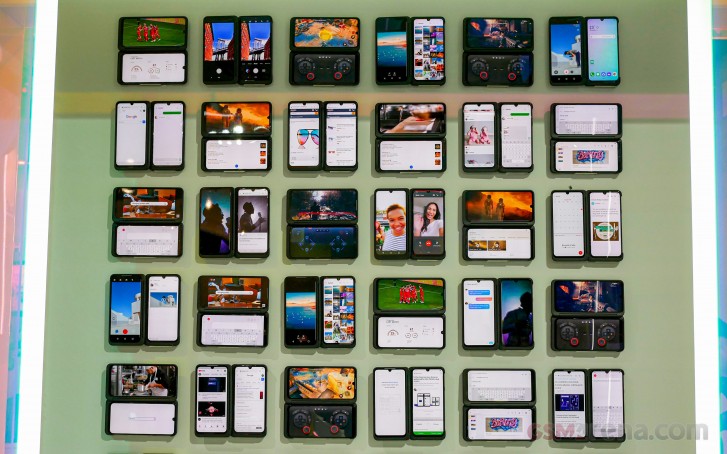 Asus
At IFA 2019 was also the Asus ROG Phone II which is the ultimate power-user phone. It's the first with the Snapdragon 855+ chipset and the only one with a 120Hz 10-bit HDR screen.
This device will be available from September 20 for €900, although it's Ultimate Edition edition doubles the storage to 1TB, speeds up the LTE connection and the price goes up to €1,200.
Huawei
To keep things fresh, Huawei unveiled two new color options for the P30 Pro which will also receive EMUI 10 based on the new Android 10.
Huawei P30 Pro in Mystic Blue

Huawei P30 Pro in Misty Lavender
Huawei's IFA 2019 event was just a teaser for what's to come as it also unveiled its new Kirin 990 chipset which will be split into two versions – 4G and 5G. The 5G chip will be built on a more advanced 7nm+ EUV process, will run its CPU at higher clock speeds with an additional NPU core. There's no doubt about it, but this should probably be the chipset to be used in the upcoming Huawei Mate 30 flagships.
But like we are all aware of, the company faces the problem of not being able to license Android for the new Mates.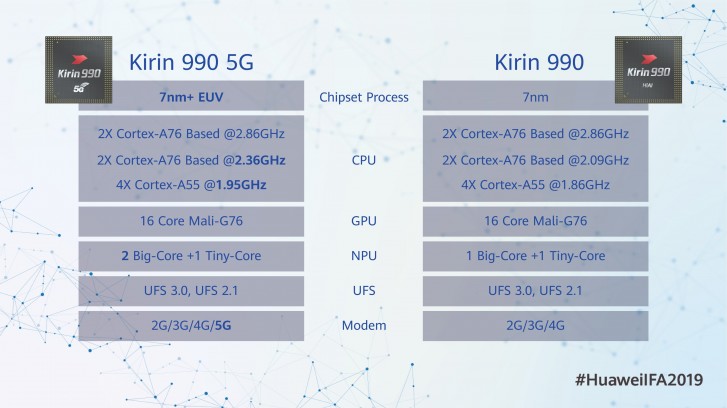 TCL and Alcatel
When we hear of TCL you probably think of one thing: television sets. Well, it's not entirely wrong because TCL is a Chinese company that makes TVs and other electronics, but it is also the parent of Alcatel and BlackBerry.
At IFA 2019, the company took a new direction by unveiling its first self-branded phone, the TCL Plex. The company has mostly been trading under the Alcatel brand, but the TCL Plex bears its own logo.
The device is a solid mid-ranger with a 6.53″ LCD display with Full HD+ resolution and a 395ppi pixel density. The phone stands tall with a screen-to-body ratio of around 90 percent and it is powered by a Qualcomm Snapdragon 675 with 6GB of RAM, 128GB of storage, and a microSD expansion slot. The battery rates 3,820mAh, with Quick Charge 3.0 support, and USB-C charging.
As for imaging, there's a 48MP main shooter, a 16MP wide-angle sensor, and a 2MP low-light sensor.
This phone retails at about $350 and it aims to tempt mid-range buyers with good looks and a solid set of specs. It comes in obsidian black and opal white colors which shimmer under the curved glass that gives the phone its shape.
At IFA 2019, there were also three new alcatel-branded devices. The alcatel 3x (2019) which is an entry-level phone with a 6.5″ 20:9 screen (720p+) and a triple camera on its back. Its launch will take place in October at a starting price of €159.99. The alcatel 1v (2019) which runs Android Go and will go for a modest price of €80. And finally the basic Smart Tab 7 tablet, which is aimed at kids and features a built-in kickstand at a cost of just €80.