Audio streaming app Spotify has today opened video podcasting for creators across the US, UK, New Zealand, Canada and Australia. With the new announcement, Spotify is set to rival YouTube which has been the sole video platform for years. The video podcast will rival youtube which has been the sole video platform for years. used by podcasters including Iconic podcaster Joe Rogan who has since been acquired by Spotify.
Podcasters who have been relying on YouTube for video podcasts will now operate at ease with the new creative tool.
Spotify has been working on the video podcasting option since mid-2020, the same period the company acquired lead podcaster, Joe Rogan's podcast. Initially, creators would embed their YouTube video links on their podcasts. Video podcats are now compatible with Spotify's subscriptions feature and work with embeds. Users can upload videos through Anchor, Spotify's podcast creation tool. This option however is only available in the five select markets.
"we've found that podcasters love having the video option to accompany their audio with visual components, and fans love having the opportunity to more deeply connect with the content. So as the audience for this format grows, we're also opening up the Video Podcast capability to more creators, creating a growing catalogue of video podcasts".
Visual interactions allow fans to get to know their favourite podcast hosts even better, and allow creators to connect with their audiences in a much deeper way. But if you want to stick to the pure audio experience, that's great too. video on Spotify is background able for all listeners, so you can immerse yourself in the content when you want to, or simply lean back and just listen.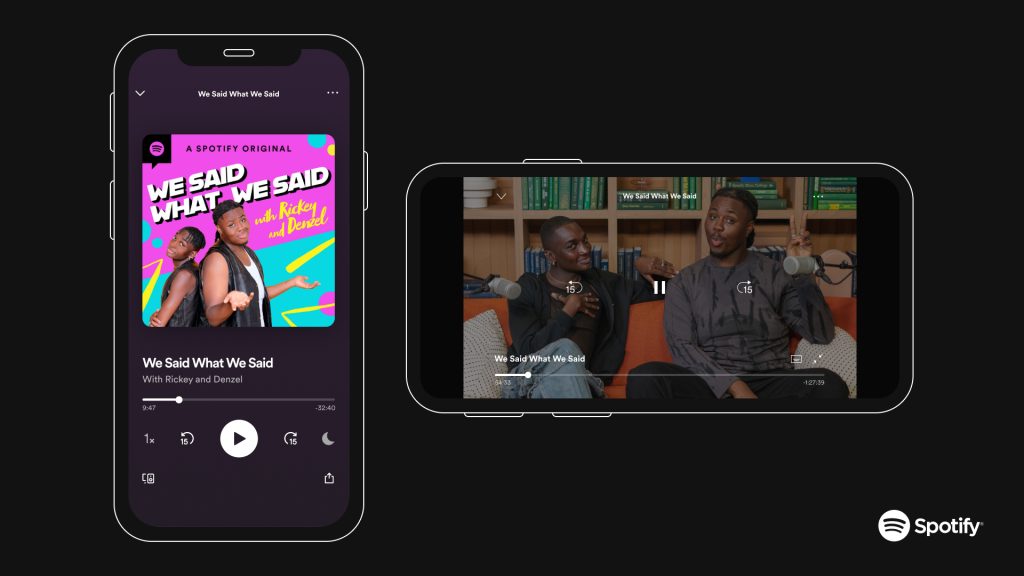 Creators in the selected five markets will be able to upload video content as soon as now and over time, we will have the global launch.
Alongside that, Spotify subscriptions will be available for video podcasts, a move that will see Spotify empower creators to own their monetization models by creating exclusive content, gating video and more.
Once rolled out, embedded videos on Spotify will play directly in the embed player wherever you've placed it, You will also be able to easily bulk-replace existing audio episodes with video versions from an easy to use interface.
Spotify has introduced video analytics, this includes video-specific analytics that gives creators deep insights into their video performance on Spotify to enable them better understand their audience and publish suitable content.
Spotify says, With this latest expansion, "we're continuing to make Video Podcasting a great experience for creators—empowering them to reach new global audiences, on how they monetize their content and interact with fans in new ways. There's a massive opportunity for Video Podcasts on Spotify, and we can't wait to see what creators bring to the table."
The audio streaming giant has also kickstarted a partnership with Riverside, the go-to platform for remote recording that will enable creators to record and publish video content for free with the support of riverside.